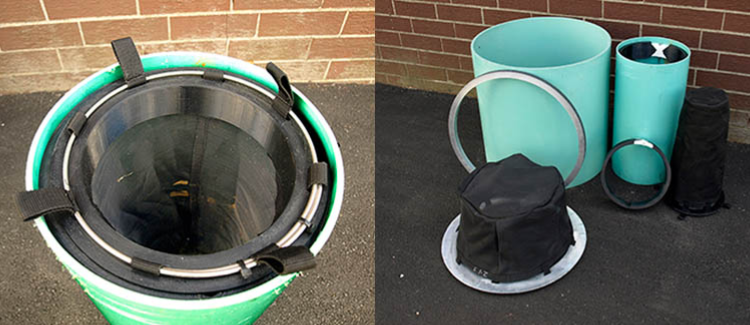 Rain gardens are generally designed to only capture either the first inch of runoff or some specific Water Quality Volume (WQv) for treatment. Some type of overflow mechanism should be considered in order to prevent erosion and other potential damage from flooding.
Fabco's Beehive filter is the perfect solution for this application. It can be added to capture floatables and solids in any type of round bypass or overflow structure.
Beehive Overflow Filters consist of 2 components:
A geotextile filter bag connected to a support frame using a support ring.
An expansion ring (plastic or aluminum) is sized to fit inside the pipe.
Benefits:
Simple, durable, corrosion resistant construction
Sizes to fit most pipes: 8" up to 36" ID – short (12") and long (21") bags available
Fast, simple installation
No worries about grate/frame compatibility
Cost-effective protection for high flow operation
Reduces clogs – keeps sediments and debris out of underground detention unit
Quick clean out – beehive filter lifts up and out for servicing